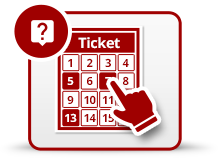 The time until the next draw and the current jackpot are shown above.
Playing Thunderball is fun and easy, and for these reasons it's one of the UK's most popular lottos. All a player needs to do is choose five main numbers between 1 and 39, and one Thunderball number between 1 and 14. A player can also choose to have their numbers selected at random using the Lucky Dip option.
Each single bet on Thunderball costs only €1.50 to play, and results and winning numbers can be found on our dedicated Thunderball results page.