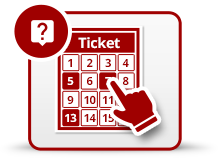 You will find a countdown to the next draw displayed above, alongside the current available jackpot.
In order to play, simply choose numbers to match the selections from two separate barrels. Six numbers between one and 40 inclusive are chosen from one barrel, while one number between one and 20 inclusive is chosen from a second barrel – This number is the Powerball.
You can choose your own numbers or use the quick-pick feature for a random selection. You can also make as many entries as you wish. Once you are satisfied with your entries, just click the green continue button. And when the summary of your selections appears, press 'Purchase Now' to proceed.
All that remains is to take a deep breath, watch as Oz Powerball results come in and check to see if you have won a money-spinning cash prize. Just remember, one ball could change it all!