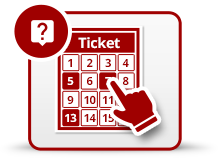 To play Mega Sena you just need to choose between 6 and 15 entry numbers. For each number you want to play in addition to the minimum of 6, you will have to purchase more entries. Playing just six numbers is therefore the most affordable option, but going for more will offer you a bigger chance of winning.
You can choose your own lucky numbers, or choose to enter with a quickp-pick, which will randomly generate your entry numbers. Additionally, you can also opt to make entries for two, four, or eight upcoming Mega Sena draws.
After you've entered your numbers, sit back and wait for the draw and check the Mega Sena results to see if you have won yourself a fortune. You'll be eligible for the same prizes and jackpots as if you had gone out and purchased a ticket in person.