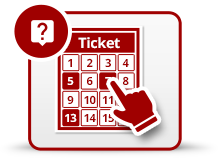 The time until the next draw and the current jackpot are shown above.
Playing UK lotto is very straightforward and for this reason it's the UK's favourite. All a player needs to do is choose six numbers from a pool of 59 – it's that simple! A player can also choose to have their numbers selected at random using the Lucky Dip option.
Each single bet on UK Lotto costs only €2.50 to play, and results and winning numbers can be found on our dedicated UK Lotto results page.