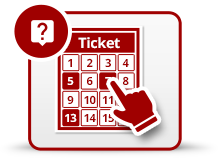 German Lotto is very straightforward compared to some games. You are required to pick six main numbers from 1 to 49 (hence the German name "6 aus 49"), plus one bonus ball called the Superzahl between 1 and 9.
At Jackpot.com, you can either choose your own numbers by clicking on the number matrix, or let the computer choose a random set for you by clicking "quick pick". Complete as many entries as you like and then click 'continue'. If you are logged-in, you will see a summary of your purchase before being asked to click 'purchase now'. That's all! You've entered the German Lotto without having to leave your house.
Now you can sit back and wait for the draw to take place. The results will appear here not long after the draw takes place.